Regarding the following card: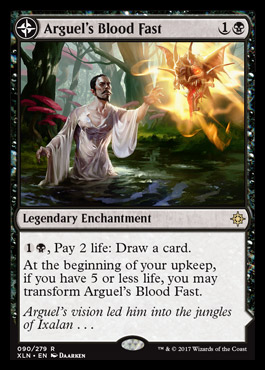 Isn't it disappointing that they still don't consider the format's different starting life total? Or at least they didn't here.
I can understand going for the more straightforward template on commons and uncommons (
Ruthless Cullblade
is not often going to be considered for EDH anyway), but I thought for rares we had left it behind.
What I mean is
Arguel's Blood Fast
wouldn't break anything if it read: "At the beginning of your upkeep, if your life total is less than a quarter of your starting life total, transform this."
Although some decks are going to prefer the
Greed
effect anyway, another
Diamond Valley
would have been nice too, if only it weren't so difficult to transform...