lumination wrote:
I like "
Journeyer's Kite
/
Maze of Ith
" a lot! Well, it's not exactly
Maze of Ith
, but it's close enough.
Speaking of bad mythics...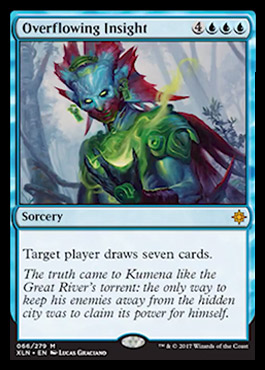 I don't know why they didn't make this an Instant. 7 mana to draw at sorcery speed is a bit much regardless of the number of cards, so as it is you'd need to play this for free (through
Intet
,
Jeleva
,
Maelstrom Wanderer
, ...) to make it viable.
I was a fan of
Recurring Insight
, but this is a bit... terrible. It could have been an instant and not ruined the world.
I think I'll try to jam it into Wanderer and Mizzix.